PACE – Program of All-Inclusive Care for the Elderly
In addition to the list below, PACE also includes services deemed necessary by your team to improve and maintain your overall health.
Primary care physician

On call 24 hours a day, seven days a week

Specialty medical care (e.g. cardiology, nephrology, orthopedic surgery, etc.)
Women's services
Nursing care

Optometry

and eye care
Dentistry and dentures
Audiology and hearing aids
Podiatry, diabetic shoes and orthotics
Psychiatric care
Physical, occupational, and speech rehabilitation therapy
Prescription drugs and durable medical equipment
Preventative services and education
Out-patient services

Lab Tests
Radiology
X-Ray
Outpatient Surgery

Emergency medical services
Ambulance services
Hospital inpatient care as needed
Nursing home care as needed
Recreational activities
Social services
Nutritional counseling and meals
Transportation

Designed to be safe and comfortable
Equipped with wheelchair and walker lifts

Caregiver respite

Respite Care & Caregiver Education

Home health and home care services

Skilled Nursing
Physical & Occupational Therapy
Personal Care
Chore Services
Meal Preparation

End of Life Care
Elderhaus at the Lake – Adult Day Center
As we age, new questions and challenges arise: How will I preserve my physical health? Will I still have the option of living independently? What will my quality of life be? Elderhaus is committed to addressing these concerns by offering community-oriented adult day care services.
Participants in our program may receive transportation to and from our facility, care provided by Certified Nursing Assistants, snacks and lunches appropriate for their dietary needs, and an on-site Licensed Nurse available to provide follow-up care in accordance with a physician's orders.
In addition to these services, seniors are engaged throughout the day with group activities, the option for physical exercise, and interaction with volunteers and community organizations.
Adult Day Health Center
On-Site Physician/Medical Supervision
Nursing Care
Physical Therapy
Occupational Therapy
Recreational Therapy
Activities & Exercise
Lunch
Nutritional Counseling
Social Services
Dentist
Audiologist
Optometrist
Podiatrist
Is independent living becoming difficult for you or someone you love? If you need assistance with everyday basics – dressing, preparing meals, remembering your medications – Elderhaus can help. Our Certified Nursing Assistants are competent, compassionate, and have been carefully vetted to ensure you are provided the best care possible.
Clients must live within the Elderhaus PACE Home Care service area of New Hanover and eastern Brunswick counties. The Registered Nurse's assessment must determine that Elderhaus PACE Home Care can safely meet the needs of the client, and the client must have a payment source that is accepted by Elderhaus PACE Home Care.
"The people are all very well trained. They know their job. They know our needs. They probably know our needs before we do. Their doors are always open if you need to go and talk to them."
Click here to view our English and Spanish brochures.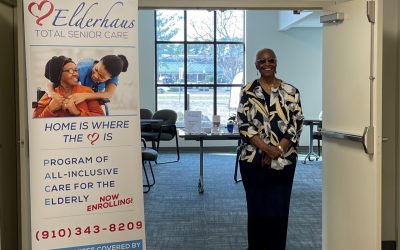 (September 26, 2023) – It is with heavy hearts that Elderhaus and EveryAge share news of the September 24, 2023, passing of Linda Pearce, 77, founder of Elderhaus and a tireless advocate for aging seniors and their caregivers. Elderhaus was incorporated in May of 1981...
read more
Learn more about PACE and how it can help you and your family.
Elderhaus is proud to offer this service to the community. Our focus is on prevention and wellness with a commitment to enhance the quality of life for seniors and their families. Complete the form below to learn more.
*Fields marked with a * are required.